From Tri–City News – link to source story
Air Canada to provide employees to work at Coquitlam COVID-19 vaccination clinic at the Poirier Forum as Fraser Health rolls out new vaccination clinics to get jabs into people's arms
Mar 24, 2021 4:20 PM By: Diane Strandberg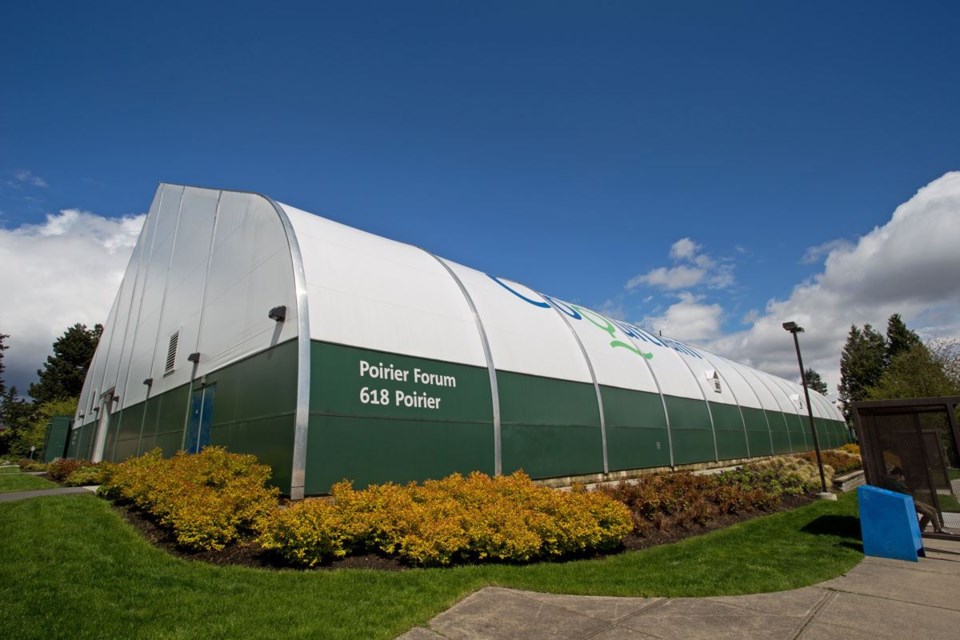 The Poirier Forum in Coquitlam, typically used for gym sports and pickleball, will be transformed into a mass vaccination clinic during the COVID-19 pandemic to get shots into people's arms.City of Coquitlam
A national air carrier is a partner in the establishment of a mass COVID-19 vaccination clinic in Coquitlam, according to Fraser Health.
But the regional health authority says the partnership does not involve a financial contribution.
Air Canada is assisting in the new mass clinic at the Coquitlam Poirier Forum — a large covered sports area located at 618 Poirier Street. The city of Coquitlam is also a partner, according to Fraser Health.
The forum location brings the number of immunization clinics in the Tri-Cities to three, including a drive-through immunization centre at the Coquitlam Park and Ride off of Mariner Way, and Douglas College.
However, the new larger Forum site will replace the temporary Douglas College clinic, according to Fraser Health, and will be used for Phase 3 and 4 of the vaccination plan. Clinics will also be flexed up or down depending on community needs.
Air Canada will be supplying staff to assist in non-clinical roles, including help with traffic control, flow monitors to assist people with navigation, greeters, and check-in staff when people arrive on-site. They will also assist people with walking or filling out paperwork.
"On average, Fraser Health's mass immunization clinics require approximately 30 to 40 non-clinical staff members to help with day-to-day operations. We are grateful for the assistance from our industry partners to help us operate our COVID-19 immunization clinics," communications spokesperson Dixon Tam confirmed in an email to the Tri-City News.
The assistance from industry partners has been facilitated through Immunize BC, according to Fraser Health.
Other partners in the immunization roll out across Fraser Health include Adecco, Ceres Terminals Canada and WestJet.
Currently, Fraser Health clinic locations are for seniors age 75 and older, as well as Indigenous elders and individuals 65-year-old and up, with plans to give shots to "extremely clinically vulnerable" in the coming days (these individuals will soon receive letters explaining how to get an appointment).
Meanwhile, priority groups, such as teachers and grocery store workers, will get shots starting in April. The campaign to vaccinate these essential workers runs parallel with the age-based vaccine clinics, which are accelerating.
The goal is to have all British Columbians receive their first dose of the vaccine by July 1.
Meanwhile, Premier John Horgan is expected to provide details of partnerships in the community vaccination program at a press conference Wednesday, March 24.
The news that volunteers are helping to speed up the vaccination process for seniors will come as good news to those who have experienced waits at COVID-19 immunization clinics, including one Coquitlam woman who told the Tri-City News it took her 90 minutes to get a shot at the Coquitlam drive-thru.
"Can you explain to us what took so long — did they overbook people?" asked Anita Simpson, who suggested volunteers helping people with paperwork might speed up the process.
Fraser Health has not yet provided the Tri-City News with an explanation of the wait at the Coquitlam drive-thru clinic last Saturday. However, in a statement said longer waits could be because people are showing up earlier than 10 minutes in advance of their scheduled appointments.