From Vancouver Sun 🔗 link to source story – thanks to CW
Canadian airports anticipate passenger numbers will not return to pre-COVID levels until 2025
Derrick Penner  •  January 24, 2022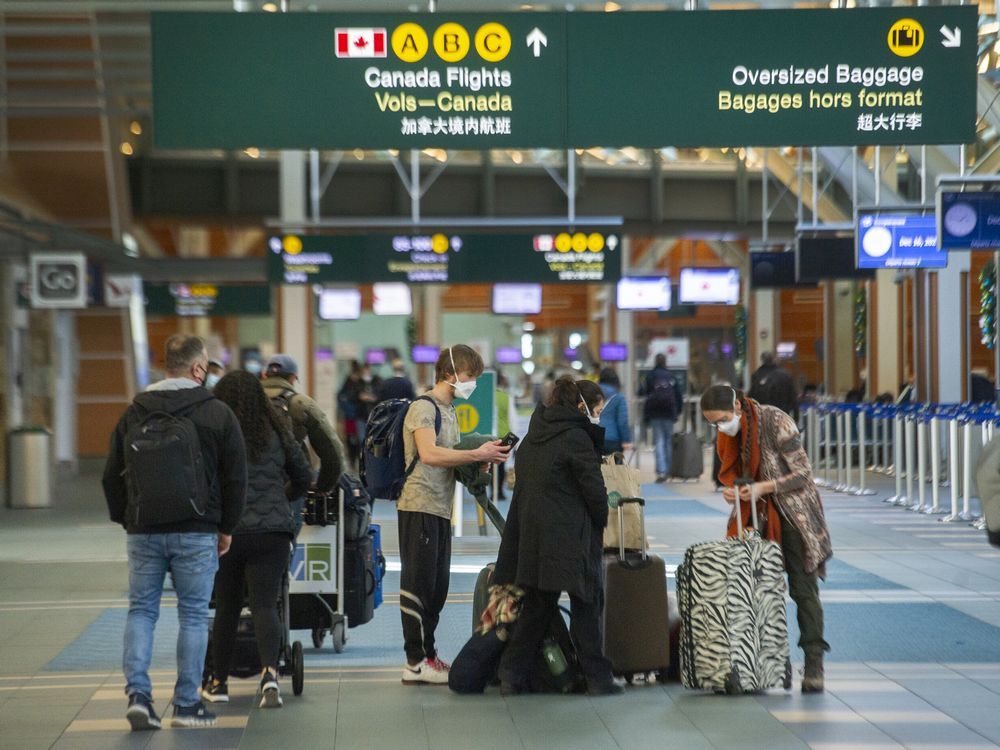 At YVR, the airport authority is enhancing air-cargo services for burgeoning, COVID-inspired ecommerce.
In Kelowna, their focus has been a new hotel and potential aerospace campus.
Victoria International Airport is tweaking its strategic plan to diversify the use of nearby lands.
These are some of the efforts as B.C.'s airports work to "future proof" operations for an expected slow recovery of air travel from COVID-19 related travel restrictions.
So far, that recovery has also been "quite a roller-coaster," according to Geoff Dickson, CEO of the Victoria International Airport, where passenger traffic climbed to 70 per cent of pre-pandemic levels by December, only to plummet back to 25 per cent after the emergence of Omicron.
"Just when you think you're out of it, then another variant comes along and we've noticed an immediate affect traffic demand," Dickson said.
If anything, airports have learned that they were getting little too dependent on passenger revenues when air traffic was hitting record highs at facilities such as YVR, Abbotsford and Kelowna, which was exposed when COVID-19 slammed air travel down to almost nothing through most of 2020.
So Dickson, in the last year, has leased land to Western Canada Spill Response, the marine manufacturer Titan Boats and Amazon, which is building a last-mile distribution centre at the airport in a deal that originated before the pandemic.
"I'd say (the pandemic) probably crystallized our efforts to a large extent and really put a priority on moving the project forward with a view to try to replace some of the lost revenue," Dickson said.
At YVR, where the airport authority had the advantage of being able to rely on financing to cover its shortfalls, it is a matter of "future-proofing" the facility's financial stability, according to a report to be presented to Vancouver City Council by CEO Tamara Vrooman this week.
Doing that will mean developing more of its industrial land base in Richmond as a transportation hub, the report said.
One bright spot at YVR is that cargo traffic at the airport returned to 83 per cent of its pre-COVID levels over the summer, which it sees as something to build on.
"Through better utilization of the land on Sea Island, YVR can help meet the need for large trade and transportation-related sites in support of B.C.'s economic recovery plans," the report said.
Kelowna International Airport has also seen a bounce back in cargo traffic, thanks to booming ecommerce, said airport director Sam Samaddar.
"If there was something that came out of this was that we needed to look at how we diversified our revenue even further and not rely solely on the passengers coming through our doors," Samaddar said.
A new hotel could be useful in catering to new domestic routes that Kelowna started serving over the summer, thanks to travel restrictions that discouraged international travel.
"What's unheard of is having a brand new market open up right in the middle of a pandemic," Samaddar said of one route in particular, a direct Air Canada flight to Montreal, which launched in July for year-round service.
It also added flights to Hamilton, Kitchener-Waterloo, Saskatoon and Regina. Victoria also added new flights to Winnipeg, Ottawa and Kitchener-Waterloo.
"Can we count on (those routes) going forward? I don't know at this stage," Dickson said. "But we'll continue to obviously push for those routes and services and we think the carriers were pleasantly surprised."
Samaddar said so-called ultra-low-cost airlines have helped inject optimism into the sector. In Kelowna, newcomer Lynx Air is one of the airlines to established service between Calgary and the Okanagan in the last year.
The ambitions of low-cost carriers Swoop and Flair helped Abbotsford International Airport edge back toward recovery as well, said general manager Parm Sidhu.
"What we all want is to get back to 2019 levels," Sidhu said, although B.C. airports expect that won't happen until 2023 — 2025.